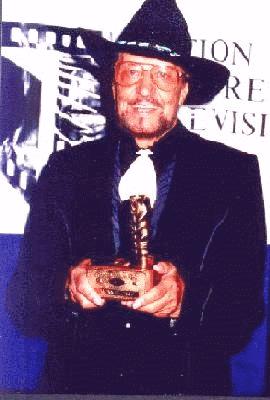 Herb Jeffries poses for the press after recieving "The Golden Boot" award.
The Motion Picture and Television Fund Foundation held the 14th Annual Golden Boot Awards on July 10,1996. During this fund raising event Mr. Herb Jeffries,"The Bronze Buckaroo" himself, was the recipient of the pretigious Golden Boot Award.

This award was founded by the late Pat Buttram whom you may remember as Mr. Haney on the popular television show "Green Acres". This event raises money for the hospitals and retirement properties that are supported by the motion picture industries. This award is given in recognition to those who made those great westerns and went riding across that silver screen every Saturday afternoon and weekly across televisions sets all over America.

The Golden Boot was presented to Herb by none other than actor/comedian Sinbad.
Herb Jeffries made the first all black cast singing cowboy western movies. These movies have become classics and are a legacy of the history of that "Separate Cinema" known as the black film industry. These classics include movies like "Harlem on the Prairie", "Two Gun Man from Harlem", "Harlem Rides The Range", and "The Bronze Buckaroo".

Herb has also appeared in many "Movie of the Week" episodes as well as television series such as "The Virginian" with James Drury, "Twice In A Life Time", with Della Reese and Ernest Borgnine, as well as "Hawaii 5-0," with Jack Lord. His new CD, "Herb Jeffries, The Bronze Buckaroo Rides Again", is a classic blend of western and jazz music and it features previously unrecorded musice from his western movies. This CD is destine to be a favorite of all that have heard the sulty sounds of this man who is known in jazz circles as "The Singers Singer ".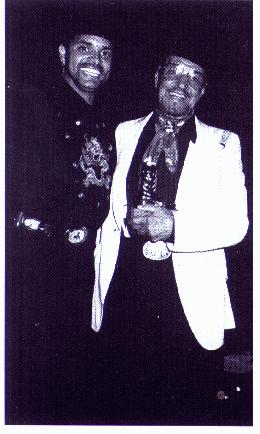 Sinbad presents "The Golden Boot Award" to Herb Jeffries.